Tuxedomoon emerged from an eccentric byway of the San Francisco music scene in the late 1970s. At the time, the group's music was a prescient mix of human and machine-made sounds, with a propulsive beat and a savory dash of anomie.
In the decades since, the band's membership has fluctuated wildly, and the members scattered from California to Rotterdam to Brussels to Mexico City. Given the diffuse nature of their activities, it's hard to say whether they ever definitively "broke up," but in any case some of them were back together in 2004 to release Cabin in the Sky. Now they have followed that up with Bardo Hotel, a suite of spontaneously improvised compositions recorded back in San Francisco to accompany a film by George Kakanakis.
The record's title refers in part to the bardo, according to Tibetan Buddhism an intermediate state between living and death. "In the bardo," a study on Buddhism tells us, "the subtle consciousness undergoes all manner of extremely vivid experiences both intensely horrific and vastly peaceful."
The title refers even more directly to a rundown Paris hotel with no name, where a group of Beat writers set up residence in the late 1950s. It was there that William Burroughs and Brion Gysin developed the "cut-up/fold-in" technique, which Burroughs would launch upon the literary world with Naked Lunch. Gysin would refer to the place in his memoirs as the "Beat Museum/Bardo Hotel."
What does the new record sound like? A little like meditation and a little like travel. The musical attitude and the instrumentarium are largely contemporary classical, though Luc van Lieshout's satisfying trumpet and flugelhorn passages are played in a jazz manner. The cyclic, trance-like nature of most of the pieces resembles a ragged version of Steve Reich or Philip Glass—or, alternatively, a sped-up version of Bill Laswell's Hear No Evil (Venture, 1988); the long and hypnotic "Vulcanic, Combustible" is the best example. (In contrast, "Baron Brown (Live)" is the most bizarre acoustic funk set to wax in a long, long time.)
Cut-up and folded-in speech samples (a loudspeaker announcement at the Embarcadero BART station, instructions to airplane passengers, "welcome to Mexico City," quirky admonitions from a hotel manager) evoke travel. This echoes the Beats' apparent conviction that rambling physical travel could simulate, and maybe even trigger, more profound travel between states of consciousness (such as the bardo, so assiduously pursued by Allen Ginsberg).
The propulsive, repetitive nature of the music itself also suggests forward movement (this record sounds great on headphones while traveling by train); the very cyclicality, though, gives the impression of never reaching one's destination. But maybe that's the point.
Visit Tuxedomoon on the web.

Jeff Dayton-Johnson is a rapidly-aging economist who works for an international organization in Paris. More about Jeff...


More Recent CD Reviews...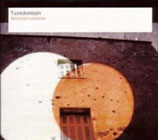 Track Listing: Hurry Up and Wait; Effervescing in the Nether Sphere; Soup du Jour; Flying Again; Triptych; I'm Real Stupid; Airport Blues; Needles Prelude; Prometheus Bound; Baron Brown (Live); Jinx (Choral Version); Loneliness; Remote (Pralaya); Dream Flight; More Flying; Vulcanic, Combustible; Mr. Comfort; Another Flight; Invocation Of; Carry On Circles.
Personnel: Blaine L. Reininger: violin, guitar, computer; Steven Brown: saxes, clarinet, keyboards, tapes; Luc van Lieshout: trumpet, fluegelhorn, harmonica; Peter Principle: guitar, bass; George Kakanakis: visuals [sic].
Style: Fringes of Jazz
Review Published: June 29, 2006